德国慕尼黑大学Barbara A.J.Lechner课题组招聘模型催化
欧洲招聘网(http://job.ouzhou.cc)2023年9月招聘资讯:

deadline
The position is open until 15/10/2023 or until filled

https://www.ch.nat.tum.de/nanomaterials/home/
Postdoc Position (TV-L E13) for Ambient Pressure X-ray Photoelectron Spectroscopy Investigations of Energy Materials The group for Functional Nanomaterials at the Technical University of Munich investigates chemical and structural dynamics of functional surfaces such as small oxide-supported metal clusters with state-of-the-art spectroscopy and microscopy surface science techniques. We offer a stimulating research environment in a multidisciplinary laboratory in one of the highest-ranked universities in Europe. This postdoc position is situated within our Cluster of Excellence e-conversion and provides many opportunities for collaboration with other Munich-based groups.
group leader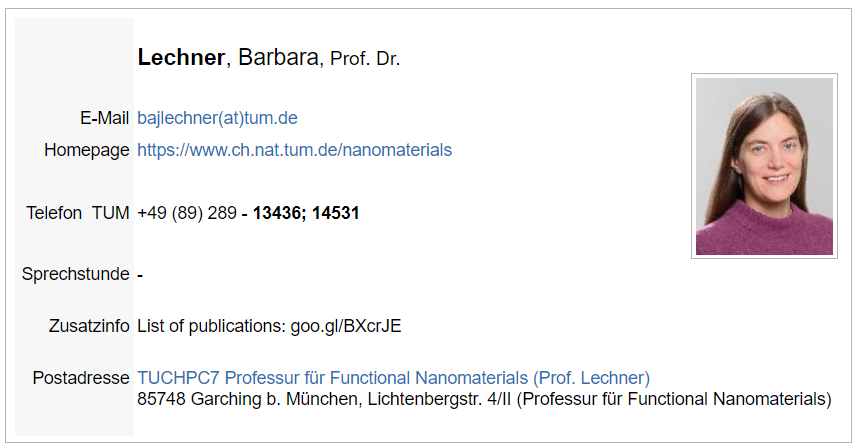 Project Description
The synthesis and detailed characterization of novel materials is a key step in the development of sustainable energy technologies. Our Cluster of Excellence e-conversion is a large interdisciplinary effort towards the fundamental understanding of energy conversion processes at the atomic and molecular scale. To this purpose, a new lab-based near ambient pressure X-ray photoelectron spectroscopy (NAP-XPS) instrument by SPECS will be installed at TUM at the end of 2023, which features a three-color X-ray source, state-of-the-art analyzer, and chambers and cells for gas phase, liquid phase and electrochemical experiments. As the successful candidate, you will be involved in the installation and operation of this instrument. On the one hand, you will work with collaborating groups from TUM, LMU and the MPI Stuttgart to perform sophisticated NAP-XPS experiments on different types of new energy materials for applications in batteries, (photo)electrocatalysis and photovoltaics. On the other hand, you will pursue your own projects on oxide-supported size-selected metal clusters (i.e. particles ≤100 atoms) and small nanoparticles as model catalysts, specifically the effect of particle encapsulation. Further to experiments using the lab-based instrument, you will be involved in measurements at synchrotrons worldwide (e.g. Berkeley, Lund, Barcelona).
Required Qualifications
Prospective candidates have a PhD in chemistry, physics or a related field and are highly motivated to work on sophisticated physicochemical experimental setups. They show a strong interest in scientific questions within physical chemistry, enjoy solving technical challenges and bring along good communication skills in English. The successful candidate will further be able to handle, maintain and support a state-of-the-art NAP-XPS instrument, and contribute their own ideas to projects. We are looking for a team player who collaborates closely with other researchers while also working independently. Experience in (NAP-)XPS, ultrahigh vacuum technology, surface chemistry, NAP studies, synchrotron techniques and programming skills (Matlab, Python, LabVIEW, …) is advantageous.
Our offer
The position is funded as part of the Cluster of Excellence e-conversion and available immediately. Payment will be based on the Collective Agreement for the Civil Service of the Länder (TV-L). TUM strives to raise the proportion of women in its workforce and explicitly encourages applications from qualified women. Applications from disabled persons with essentially the same qualifications will be given preference.
Application
Please send your CV, letter of motivation (max. 1 page) and two letters of reference to Prof. Dr. Barbara A. J. Lechner (recruitment.lechner@tum.de). Only complete applications will receive full consideration. The position is open until 15/10/2023 or until filled. Further information on our research group is available at www.ch.nat.tum.de/nanomaterials.